Stream
Live stream Sidecarcross and Quadcross
of Nations 2018 – Slagelse, Denmark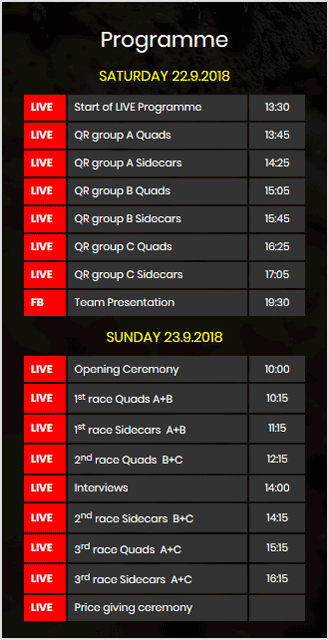 Together with the Slagelse organiser and WSC we offer you more then 5 hours LIVE STREAM daily! !
A modestly priced single day pass to watch Saturday or Sunday will cost 14.99 Euros without access to Re-Live.
A FULL EVENT PASS will cost 24.99 Euros giving you access to the entire weekend and all Re-Live.
BUT, and here's the good bit, for regular Sidecarcross.com fans, there is a 40% discount offer using a special promotional code starting today, and closing at midnight on Sunday. Quote WSC promotional code "WSCFANS" to claim your 40% discount.
Technical support
Our British facilities company INPLAYER.COM guarantee live-streaming to all devices, via a highly sophisticated and secure paywall, with twenty-four hour viewer support.
This is an unprecedented move for the world of sidecar and quad-cross, further bolstering the exposure and public awareness of our wonderful and spectacular sport.
To make sure you don't miss a thing, and you're in the front row for the action, get your event pass now