Home
The worldwide source for information about
the wild sport of Sidecar Motocross racing





































An International sport
Great racing photos, race schedules and results, discussion forum, for sale & wanted ads, links, and more.
Content covers all parts of the world where Motocross Sidecars are raced, including 20 European countries, USA, Australia, and New Zealand.
---
2015-05-27
Updates after GP6 Oldebroek, NL
The page for the World Championship round 6 in Oldebroek, Netherlands is updated with the (correct) results and photos.
Also the new standing World Championship 2015 is available.
---
2015-05-19
Updates after GP5 Schopfheim, D
The page for the World Championship round 5 in Schopfheim, Germany is updated with the results and photos.
Also the new standing World Championship 2015 is available.
Team Adriaenssen will be out for a longer period due to a injury for Ben Adriaenssen
---
2015-04-23
Updates after GP2 Castelnau and GP3 Malpartida
After being back home for the rounds in France and Spain i have update the results and photos on GP2 Castelnau de Levis, F  and GP3 Malpartida de Caceres, ES. Also the standing World Championship 2015 is renewed and added some  names on the donations pages from persons who support the Sidecarcross.com webpage.
At the moment we do have some technical issues on Sidecarcross.com with the performance. For that reason i have disabled some functionality.
Also the life timing during the Grand Prix of France was taking the performance of the server down (which makes our hosting provider real unhappy).
Some numbers; Saturday 11 April we had: 307.400 hits and create 3.229.511 KB (thats 3 GB) traffic. On Sunday when life timing was blocked several times, it still get 257.114 hits and again 2.106.632 KB (2 GB) traffic.
These numbers are way more then what we expected and tells again the need for life timing during races for the World Championship Sidecarcross and online results service.
During events for the solo motorcross World Championship, such facilities are standard available, but for the sidecars i did try to convince the FIM Motocross commission for more then 2 years to do this for the Sidecars also, but till today without succes. Even offering all the help to setup this service isn't enough to get this done.
Now we concentrating ourselfs on fixing the performance for Sidecarcross.com. Searching a good hosting provider which can offer the services we need, has the higest priority.
For now we only can apoligize and try to find a solution as soon as possible.
---
2015-04-17
Due to some technical problems sidecarcross.com has disabled some functionality
I hope solve these problems shortly
Update for round 2 World Championship Sidecarcross 2015 is also done.
The pages GP2 Castelnau de Levis, F  and the standing World Championship 2015 are updated now. Photos will be added later.
---
2015-04-08
Update for round 1 World Championship Sidecarcross 2015
the pages GP1 Frauenfeld, CH is updated with the results and some photos. Also the standing World Championship 2015 is  available now.
---
2015-03-24
Entrylists

for GP2 Castelnau de Levis, F
and GP3 Malpartida de Caceres, ES
---
2015-03-12
The
2015

World Championship

Sidecarcross

is coming closer

Just some weeks to go and the gate drops again.
With over 50 teams on the entry list, it will be a great opening of the season in Frauenfeld, Switserland.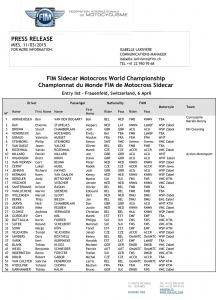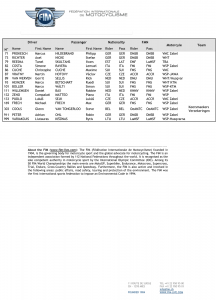 With the new website, the results will be posted directly on the page for this event and no longer on our forum.
There you also find some links to the organisers website.
If you want to visit this event and need a route description, you can find it on our Calendar page for this event.
---
2015-02-20
Cancelled
GP4 Chernivtsi, Ukraine
We would like to inform you that given the very tense situation in Ukraine, it was decided to postpone the Motocross Seminar in Kiev on 14/15 March to a later date next year for the same reasons, Round 4 of the 2015 FIM Sidecar Motocross World Championship, scheduled for Chernivtsi on 02/03 May was removed from the Calendar.
However, the CMS remains sympathetic towards this event and does not exclude a return to Ukraine next year provided that all the necessary conditions are in place. The event has therefore been added on the provisional 2016 FIM Sidecar Motocross World Championship calendar.
---
2015-01-30

Cancelled
Seasons Opening Reusel
Due tothe bad track conditions the organiser did cancel the event.
Volunters did prepare a good track, but all the rain from the past days made it so wet that it's impossible to have a good track which can be save and good enough to have races.
---
Welcome on the new website for sidecarcross.com
As it is a huge job to transfer all content from the old website into this new site (over 450 pages), it will take some time before  everything is filled-up and up to date.
Highest priority has the current World Championship, i try to update it immediately and in the time between i am working on other things to improve the new website and fill it with the old content to create a hugh archive from the worldchampionship (and before).
Any suggestions, remarks, errors, type-mismatches, tips or other info regarding this new website is always welcome.
The contact form on top of the page should be working, but you also can find me on Facebook.
More details / information about the sport can be found on the forum.
Your event or news here? Send me an email.
---
2014-11-18
FIM Sidecar Motocross World Championship 2015 (confirmed version 18-November-2014)
06 April – Frauenfeld, CH (Eastern Monday)
12 April – Castelnau de Levis, F
19 April – Malpartida de Caceres, SP (TBC)
03 May – Chernivtsi, UA (TBC)
17 May – Schopfheim, D
25 May – Oldebroek, NL (Whit Monday)
07 June – Stelpe, LV
14 June – Kramolin, CZ
28 June – Genk, B
05 July – Iffendic, F (TBC)
19 July – Strassbessenbach,D
02 August – Kivioli, EST
09 August – Kegums, LV
30 August – Roggenburg, CH
12 September – Saint Jean d'Angely, F (TBC)
20 September – Rudersberg, D
Sidecarcross of European Nations 2015
11 October – Schwedt, D (TBC – PROVISIONAL)
---